Designed by FEDEVEL Academy
Based on Freescale i.MX6 CPU. This is an open source project. All documents are free for download, including Schematic and PCB files.

The iMX6 Rex Module is also used for teaching about
Schematic Design and Advanced PCB Layout at FEDEVEL Academy
.
Status
Available. Purchase iMX6 Rex module from VOIPAC >
Module Specification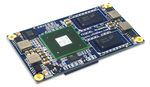 Freescale iMX6 processor, up to 1.2GHz / 4 cores
Soldered down DDR3-1066 (533MHz), up to 4GB
10/100/1000 Mbps Ethernet
1x HDMI (up to QXGA 2048×1536)
1x LVDS (up to WUXGA 1920×1200)
1x PCIE
1x SATA
On board SPI Flash up to 32Mb
1x SD (or optional 2x CAN), 1x MMC
2x USB
3x UART, 3x I2C, 1x SPI
Digital audio
JTAG
User LED, power LED
2x high speed board to board connectors (only one required)
Size: 70 x 40 mm (smaller than a credit card)
Input power: 7 to 24V DC (or single +5V)
Development Baseboard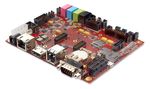 To run this module in your application, feel free to use our iMX6 Rex Development Baseboard and customize it.



Module Schematic
Complete Module Production & Altium Designer Files
Module 3D PDF Document (use Adobe Reader)
Module Bill of Materials
BOM Total: $116USD / 1000pcs (for CPU 1GHz, QUAD Core, DDR3 1GB)

Module Stackup
PCB Cost: $9.32 USD / 1000pcs


Videos
Running iMX6 Rex Graphics demos

Runnig a PCI Express Card plugged into iMX6 Rex

Releated posts
… read more …
Module Licence
It is completely free for personal use. If you like this module and you are interested to use it for commercial use, please contact us. There is a pretty high chance, that we will agree on a free license for your commercial project or a small fee $7 may apply. This work is licensed under a Creative Commons Attribution-NonCommercial 4.0 International License.