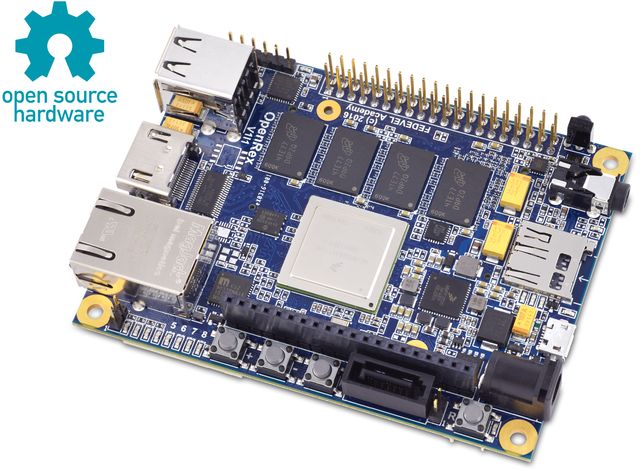 Here is the pricelist for OpenRex. The board is going to be manufactured and sold by VOIPAC. Availability of the first 50pcs is Q2/Q3 2016. For more information, contact VOIPAC here >
Brief overview of OpenRex pricing (commercial temperature)
OpenRex BASIC
OpenRex MAX
CPU
iMX6 SOLO
1GHz, 1 core
iMX6 QUAD
1GHz, 4 cores
Memory
512MB
DDR3-800
2GB
DDR3-1066
Microcontroller LPC1345
YES
YES
Ethernet
YES
YES
All sensors
YES
YES
SATA
NO
YES
Price EUR
(1pc)
199
229
Price EUR
(1000pcs)
158
176
All the boards also include:
HDMI Output, Parallel CSI Camera input or RGB Parallel Display output, Differential Camera Input (Compatible with Raspberry Pi) or LVDS display output, micro SD slot, PCIE mini slot, micro SIM socket, USB OTG Micro, 2x USB, CAN with transceiver, Compass + Accelerometer, Gyroscope, Humidity sensor, Temperature sensor, IR Receiver, Audio (Headphones output, Microphone input), Touchscreen connector (Touchscreen through LPC13xx / Optional 4x Analog input), I2C EEPROM, SPI FLASH, 8+2 USER LED, Power LED, SD Card LED, USB HUB LED, 1x Reset button, 3x User button, 1x Raspberry PI type header (40 pins), 1x Arduino type header (20 pins).
The board is available in commercial & industrial temperature range. Price for industrial board may be different. For more details check with VOIPAC >
As usual, custom builds will be available.